Overview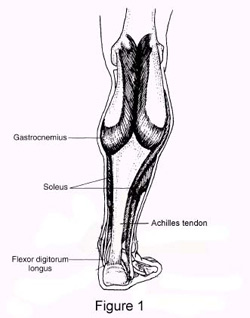 The Achilles is a large tendon that connects two major calf muscles to the back of the heel bone. If this tendon is overworked and tightens, the collagen fibres of the tendon may break, causing inflammation and pain. This can result in scar tissue formation, a type of tissue that does not have the flexibility of tendon tissue. Four types of Achilles injuries exist, 1) Paratendonitis - involves a crackly or crepitus feeling in the tissues surrounding the Achilles tendon. 2) Proliferative Tendinitis - the Achilles tendon thickens as a result of high tension placed on it. 3) Degenerative Tendinitis - a chronic condition where the Achilles tendon is permanently damaged and does not regain its structure. 4) Enthesis - an inflammation at the point where the Achilles tendon inserts into the heel bone.
Causes
Excessive exercise is a common cause of Achilles tendonitis. This is particularly true for athletes. However, factors unrelated to exercise may also contribute to risk. Rheumatoid arthritis and infection are both correlated with tendonitis. In general, any repeated activity that strains the Achilles tendon can contribute to this problem. Here are a few possible causes, jumping into an exercise routine without a proper warm-up, straining calf muscles during repeated exercise or physical activity, playing sports such as tennis that require quick stops and changes of direction, wearing old or ill-fitting shoes, wearing high heels every day.
Symptoms
Symptoms of Achilles tendinitis and tendinosis include recurring localized heel pain, sometimes severe, along the achilles tendon during or after exercise. Pain often begins after exercise and gradually worsens. Morning tenderness or stiffness about an inch and a half above the point where the Achilles tendon is attached to the heel bone. Sluggishness in your leg. Mild to severe swelling. Stiffness that generally diminishes as the tendon warms up with use.
Diagnosis
If you think you might have Achilles tendonitis, check in with your doctor before it gets any worse. Your doc will ask about the activities you've been doing and will examine your leg, foot, ankle, and knee for range of motion. If your pain is more severe, the doctor may also make sure you haven't ruptured (torn) your Achilles tendon. To check this, the doc might have you lie face down and bend your knee while he or she presses on your calf muscles to see if your foot flexes. Any flexing of the foot means the tendon is at least partly intact. It's possible that the doctor might also order an X-ray or MRI scan of your foot and leg to check for fractures, partial tears of the tendon, or signs of a condition that might get worse. Foot and ankle pain also might be a sign of other overuse injuries that can cause foot and heel pain, like plantar fasciitis and Sever's disease. If you also have any problems like these, they also need to be treated.
Nonsurgical Treatment
Supportive shoes and orthotics. Pain from insertional Achilles tendinitis is often helped by certain shoes, as well as orthotic devices. For example, shoes that are softer at the back of the heel can reduce irritation of the tendon. In addition, heel lifts can take some strain off the tendon. Heel lifts are also very helpful for patients with insertional tendinitis because they can move the heel away from the back of the shoe, where rubbing can occur. They also take some strain off the tendon. Like a heel lift, a silicone Achilles sleeve can reduce irritation from the back of a shoe. If your pain is severe, your doctor may recommend a walking boot for a short time. This gives the tendon a chance to rest before any therapy is begun. Extended use of a boot is discouraged, though, because it can weaken your calf muscle. Extracorporeal shockwave therapy (ESWT). During this procedure, high-energy shockwave impulses stimulate the healing process in damaged tendon tissue. ESWT has not shown consistent results and, therefore, is not commonly performed. ESWT is noninvasive-it does not require a surgical incision. Because of the minimal risk involved, ESWT is sometimes tried before surgery is considered.
Surgical Treatment
Surgery is considered the last resort. It is only recommended if all other treatment options have failed after at least six months. In this situation, badly damaged portions of the tendon may be removed. If the tendon has ruptured, surgery is necessary to re-attach the tendon. Rehabilitation, including stretching and strength exercises, is started soon after the surgery. In most cases, normal activities can be resumed after about 10 weeks. Return to competitive sport for some people may be delayed for about three to six months.
Prevention
Wear shoes that fit correctly and support your feet: Replace your running or exercise shoes before the padding or shock absorption wears out. Shock absorption greatly decreases as the treads on the bottoms or sides of your shoes begin to wear down. You may need running shoes that give your foot more heel or arch support. You may need shoe inserts to keep your foot from rolling inward. Stretch before you exercise: Always warm up your muscles and stretch gently before you exercise. Do cool down exercises when you are finished. This will loosen your muscles and decrease stress on your Achilles tendon. Exercise the right way: If your tendinitis is caused by the way that you exercise, ask a trainer, coach, or your caregiver for help. They can teach you ways to train or exercise to help prevent Achilles tendinitis. Do not run or exercise on uneven or hard surfaces. Instead, run on softer surfaces such as treadmills, rubber tracks, grass, or evenly packed dirt tracks.